win our hearts | win your wedding was SUCH a good thing.
more, LOTS more, on tim + jane in a moment, but first . . .
--> did you know that . . .
where you can host a dinner party for your closest friends?
(and what a delicious dinner it will be. mmmmm The Sycamore is first rate!)
those doughnuts on the wall: wooden.

the glass bowls on the table: incredible art as table centerpiece!

those Sycamore salads? ~ scrumptous!!!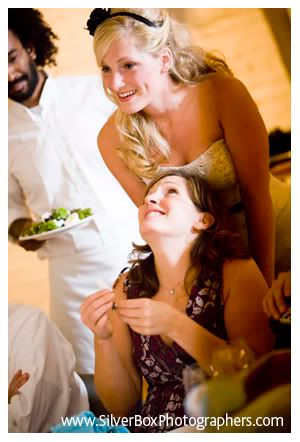 doesn't THIS next image make you hungry for a
Sycamore
steak and a good glass of wine: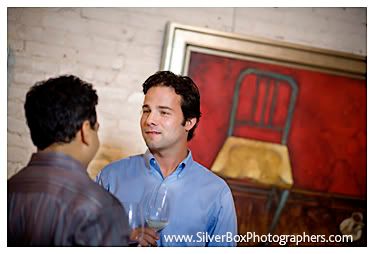 having art on the wall never fails to creates a rich and enlivened environment:
what a place to MAKE pictures:
(note the incredible sliver of space between tim + jane's faces in this image. oh i'm proud of this one!)
mary jane's (we should say early on that jane goes by both names,
her sweet mom explains that she was NAMED for the candy, but generally called "jane!" by friends)
~ where was i going with this?

oh yeah, mary jane's paintings were
hanging
in PS gallery during their rehearsal dinner . . .
. . . and we learned when we walked in that one of them had just been SOLD.
wow.

mary jane actually said during her dinner remarks that if this very day was the highest peak of her life,
(after spending the weekend with her,
we're 100% certain there are so many remarkable moments yet to come to this couple!)

and speaking of the art of life . . .
--> did you know that . . .
* craftsmanship + design was once a standard part of manufacturing?
the ceremony comes from the ancient Swahili community and 

its spiritual tradition that focuses on ancestral worship and 

the relationships between ancient spirits and present spirits...

this is not just a cognitive remembering of ancestors 

but it invites the ancestors to come into the relationship....

the presence of the ancestors is literally with us in the 

hearts, minds, souls, and natural surroundings of the community...